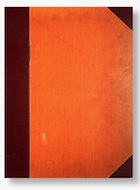 The 'Queen Mary Atlas', though now incomplete, is one of the most magnificent examples of Portuguese mapmaking. Its charts track the progress of Portuguese sailors who since 1415 had sailed down the west coast of Africa, far beyond the confines of the known world, in search of spices, non-Christian souls and slaves. A century later they reached Brazil and India. The maps provide some of the first relatively accurate depictions of these regions. Derived in style from medieval Mediterranean sea charts, they are enlivened by colourful heraldry, banderoles and depictions, based on direct observation, of non-European rulers, peoples and animals.
The atlas was probably commissioned by Mary I as a gift for her husband, Philip II of Spain, a few months after their marriage in June 1554. Its creator, Diogo Homem, belonged to a distinguished Portuguese mapmaking dynasty. Diogo had fled Portugal to escape a murder charge in 1544 and the atlas shows he had no qualms about working for Portugal's enemies: the maps in the atlas all reveal a strong pro-Spanish bias, even at the cost of truth.
Philip never received the atlas. It seems only to have been completed after Mary's death in November 1558.
This eBookTreasures facsimile edition contains the complete manuscript.