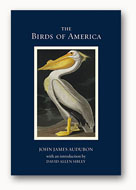 by John James Audubon
Simply the most important book of birds ever made. For eighteen years from 1820, to the completion of the project in 1838, John James Audubon painted 435 North American birds, and then arranged to have them engraved and printed in the United Kingdom.
In order to display the birds in as lifelike a way as possible, the size of the original edition was enormous, 39.5″ by 28.5″, or double-elephant folio. The prints were issued in sets of five, with each set containing one large plate and 4 medium or smaller plates.
Buy Highlights Version from iTunes (72 pages) £3.99
Buy Complete Version from iTunes (445 pages) £9.99